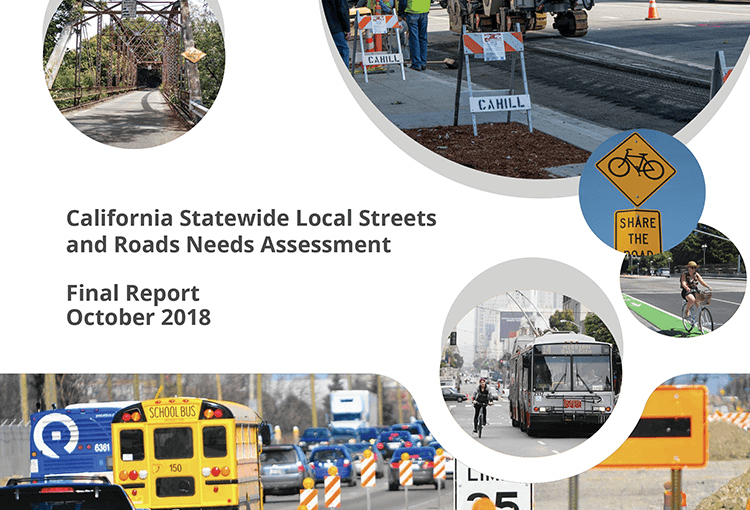 The 2018 edition of the Statewide Local Streets and Roads Needs Assessment is now available. Cities, counties and regional transportation agencies have produced the report biennially since 2008 to provide a comprehensive assessment of the condition of California's local roads. The report analyzes existing funding levels and hypothetical future scenarios to forecast the condition of our local transportation infrastructure, including pavements, bridges, and other essential components (sidewalks, drains, traffic control devices, etc).
The key findings from the 2018 report focus on the impacts of SB 1 (2017), which provides an additional $1.5 billion in annual formula funding for local street and road repairs, maintenance and improvement.
Over the next decade, SB 1 funding will allow cities and counties to stop the historical deterioration of the local street and road system and reduce the local funding backlog by $18 billion.
SB 1 funding will increase the percentage of local roadways in good condition from 54% to 66% and decrease the percentage of local road miles in fair or poor condition over the next decade.
Without the additional funding SB 1 provides, the statewide local pavement condition index will fall to 57 and the percentage of local roads in poor condition will rise to nearly 29% by 2028.
Without SB 1's dedicated funding, unmet needs on the local street and road system will grow by $12 billion over the next decade.
CSAC encourages public works directors to use this report and your own local analysis to educate your Board of Supervisors and community about the funding needs of your county roads. To help facilitate these educational efforts, CSAC has developed a suggested press release, talking points and social media posts (attached).
The full report is available online at: www.savecaliforniastreets.org.
A fact sheet, FAQs, an executive summary and a sample PowerPoint presentation are available for download here: http://www.savecaliforniastreets.org/action-center/toolkit/