CEAC Fall Conference/Annual Meeting
(Joint with California State Association of Counties – CSAC)
CSAC 124th Annual Meeting
Marriott Marquis San Diego Marina
November 28 – 30, 2018

Who Should Attend?
Public Works Directors
Assistant Directors
Deputy Directors
County Surveyors
Public Works Staff
Planning Directors
CEAC Affiliates
Caltrans Staff
CEAC Retired Members
Features and Benefits of the Program:
Each year this event brings together County Supervisors, County Public Works officials, other senior level staff, and private sector consultants to network, discuss challenges facing many California counties, and to receive valuable information from relevant experts.
Conference Registration and Website:
Policy Committee Meeting Agendas:
CEAC Policy Committee meeting agendas will be available approximately two weeks prior to the conference.
Sponsorship Opportunities:
Platinum Sponsorship – $2,000.00
(Includes one complimentary registration, advanced copy of conference registration list, logo signage & sponsorship of a County Engineers' night; an invitation only event)
Gold Sponsorship – $1,250.00
(Includes one complimentary one-day registration plus logo signage)
Silver Sponsorship – $500.00
(Recognition only)
CEAC Golf Tournament
Tuesday November 27, 2018
Shotgun Start – 10:15 A.M.
Coronado Municipal Golf Course
2000 Visalia Row, Coronado, CA 92118
$100 per person
Questions?
Contact Merrin Gerety at mgerety@counties.org
Future Conferences
2019 – San Francisco
2020 – Los Angeles
Platinum Sponsors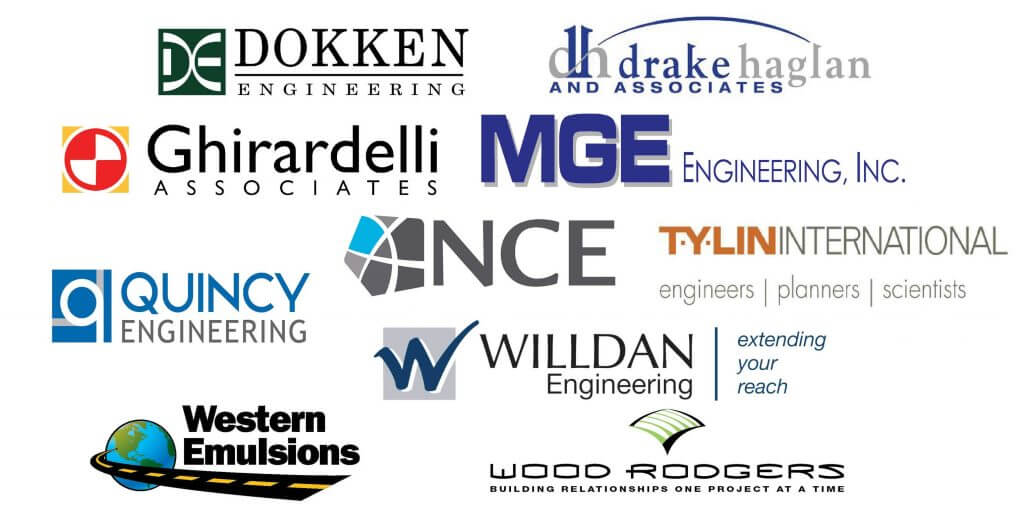 Gold Sponsor