2020 CEAC Policy Conference has moved online!
Due to recent events related to the COVID-19 pandemic and guidance from the California Department of Public Health and Sacramento County regarding restrictions of mass gatherings, the County Engineers Association of California is cancelling the in-person 2020 CEAC Policy Conference scheduled August 19-20, 2020 in Sacramento.
Although the in-person conference is cancelled, CSAC staff is holding CEAC Policy Committees via Zoom meetings on August 19 and 20, 2020. The current schedule is below. Agendas to follow separately. We also want to thank our sponsors for their continued support of CEAC!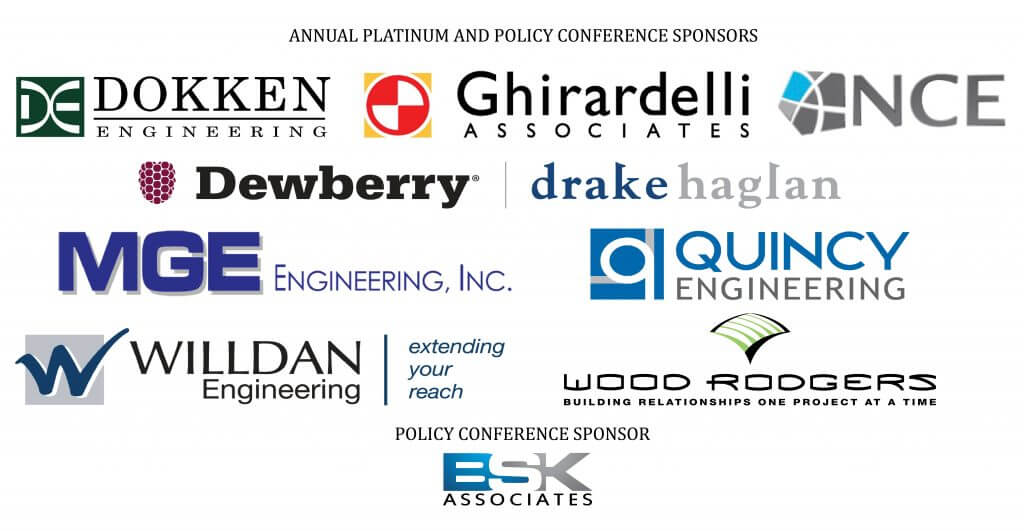 Wednesday, August 19, 2020
9:00 am – 10:15 am
Surveyor Policy Committee Meeting
Aleksandar Jevremovic, Santa Barbara County – Chair
Join Zoom Meeting: https://us02web.zoom.us/j/84011953019?pwd=UmRuRXhORFpSc0tGL2pHdXNHbXdjUT09
Meeting ID: 840 1195 3019
Passcode: 518174
One tap mobile
+16699006833,,84011953019#,,,,,,0#,,518174# US (San Jose)
10:45 am – 12:00 pm
Land Use Policy Committee Meeting
Trish Tillotson, Nevada County – Chair
Join Zoom Meeting: https://us02web.zoom.us/j/84258061521?pwd=cUVJU2tyTHNhbm9VNnYzZnQxSU52QT09
Meeting ID: 842 5806 1521
Password: CEACLU20
One tap mobile
+16699006833,,84258061521#,,,,0#,,080312# US (San Jose)
1:00 pm – 2:15 pm
Flood Control & Water Resources Policy Committee Meeting
Mark Strudley, Santa Cruz County – Chair
Join Zoom Meeting: https://us02web.zoom.us/j/86781114859?pwd=UkFJSUxmWXQ0Z1RXQ3JpdW5JVHY4Zz09
Meeting ID: 867 8111 4859
Passcode: CEACFlood
One tap mobile
+16699006833,,86781114859#,,,,,,0#,,226391301# US (San Jose)
2:45 pm – 4:00 pm
Resource Recovery and Waste Management Policy Committee Meeting
Tim Goncharoff, Santa Cruz County – Chair
Join Zoom Meeting
https://us02web.zoom.us/j/85396290599?pwd=WUgvRitaYTBsSDVKbjVHOHRoRG41UT09
Meeting ID: 853 9629 0599
Passcode: CEACWaste
One tap mobile
+16699006833,,85396290599#,,,,,,0#,,489389165# US (San Jose)
THURSDAY, August 20, 2020
9:00 am – 10:15 am
Transportation Policy Committee Meeting
Patty Romo, Riverside County – Chair
Join Zoom Meeting
https://us02web.zoom.us/j/83279915971?pwd=V2gwdUUxRUNRWHpJTnpuMHdxb0tRdz09
Meeting ID: 832 7991 5971
Password: CEACTRANS
One tap mobile
+16699006833,,83279915971#,,,,0#,,559241# US (San Jose)
11:00 am – 12:15 pm
CEAC Administrative Committee Meeting
Brian Balbas, Contra Costa County – Chair
Join Zoom Meeting
https://us02web.zoom.us/j/81168167636?pwd=bUVOazh1UFJMU1JGU2RJSllkMHludz09
Meeting ID: 811 6816 7636
Password: CEACADMIN
One tap mobile
+16699006833,,81168167636#,,,,0#,,180814# US (San Jose)
1:30 pm – 3:00 pm
Board of Directors Meeting
Rick Tippett, Trinity County – President
Join Zoom Meeting
https://us02web.zoom.us/j/88485183196?pwd=YU5oNkZ3dDRGaGpGSTQ4OTg1Rm8wQT09
Meeting ID: 884 8518 3196
Password: BOD2020
One tap mobile
+16699006833,,88485183196#,,,,0#,,485661# US (San Jose)
We appreciate your patience as we work through this process.  If you have any questions, please feel free to contact Merrin Gerety at mgerety@counties.org
Thank you,
Rick Tippett
Director of Transportation, Trinity County
2019-2020 CEAC President