The Buffalo Bull Award is awarded annually by the CLODS for the most inexplicable and incomprehensible contribution to County Engineering in California.
Award Recipients
2022 Panos Kokkas, Trinity County
2021 Tom Mattson, Humboldt County
2020 No Award Given
2019 Jim Porter, San Mateo County
2018 Mike Carlson, Contra Costa County
2017 John Presleigh, Santa Cruz County
2016 Jeff Pratt, Ventura County
2015 Matt Machado, Stanislaus County
2014 Mike Penrose, Sacramento County
2013 Richard (Rick) Tippett, Trinity County
2012 Julie Bueren, Contra Costa County
2011 Patrick DeChellis, Los Angeles County
2010 Scott McGolpin, Santa Barbara County
2009 Phil Demery, Sonoma County
2008 Pat DeChellis, Los Angeles County
2007 Maurice Shiu, Contra Costa County
2006 Carl Bonomini, Trinity County
2005 Gerry Shaul, Lake County
2004 Phil Demery, Santa Barbara County
2003 Gerry Shaul, Lake County
2002 Not awarded due to NACE Conference, San Diego
2001 Peter Rei, Tuolumne County
2000 Henry Hirata, San Joaquin County
1999 Neil Cullen, San Mateo County
1998 Tom Hunter, Plumas County
1997 Tom Hunter, Plumas County
1996 Max Bridges, San Benito County
1995 John Murray, Humboldt County
1994 John Mitchell, Lassen County
1993 Bob Sans, San Mateo County
1992 Richard Welton, Fresno County
1991 Jim Brock, Plumas County
1990 Dave Gravenkamp, Siskiyou County
1989 Bill Cheff, Butte County
1988 J. Michael Walford, Contra Costa County
1987 Don Porath, Santa Cruz County
1986 Bruce McClain, Monterey County
1985 Gene Knapp, Solano County
1984 Verne Davis, Merced County
1983 Tom Tidemanson, Los Angeles County
1982 Dee McKenzi, Sacramento County
1981 Don Head, Sonoma County
1980 Budge Campbell, Mendocino County
1979 Vic Pottorff, CSAC
1978 Bill McIntosh, Lassen County
1977 Buzz Stokes, Ventura County
1976 Sid Cantrell, San Mateo County
1975 Clint Berry, Fresno County
1974 Dick Curry, Shasta County
1973 Clay Castleberry, Butte County
1972 Irv Morhar, Los Angeles County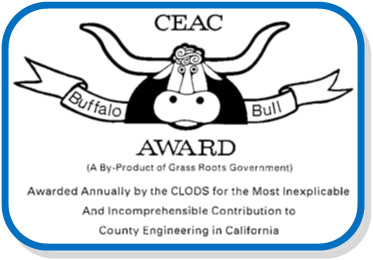 How to Nominate:
The CLODS' Tres Pinos Committee solicits nominations for the most inexplicable and incomprehensible contribution to County Engineering in California from county public works members in the fall. The prestigious Buffalo Bull Award is presented to a most deserving "sole" at the President's Banquet during the Spring Conference. All nominations are kept in strict confidence by the committee.
Any and all nominations should be sent directly to the CEAC Newsletter Editor, who will in turn send them to an unknown P.O. Box in Tres Pinos, California to be opened sometime early in the new year by the Tres Pinos Committee in a secret meeting at Borovich's Irish Hacienda…a favorite watering hole of the committee & the location where the concept for the overhead sewage treatment facility was hatched.